When to choose CPQ, Billing & SRM.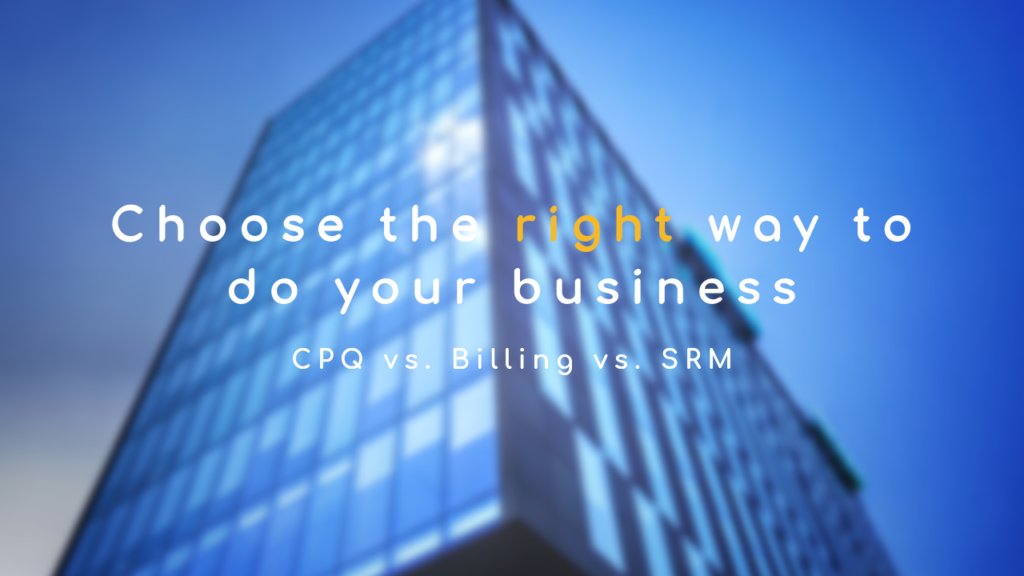 Many people are now getting confused between what each of these systems does,  what their approach is and which one fits their needs.  Do not assume all are the same or perform the same function.
CPQ
Configure, Price, and Quoting systems were first brought to the Salesforce community by companies like Big Machines. These were designed to allow companies with hundreds or thousands of price altering elements to be structured into Recommends, Required, Inclusions, and Exclusions which can then be discounted and finally presented in a proposal.  A good example would be the Build your own Mustang from the Ford motors website.   CPQ systems are tasked with helping account executives weed through extensive options to build a price for a customer and present it. Quoting systems help build the terms and conditions of a contract.
Quoting systems are able to tell the customer what it will cost but they need a billing system to execute the process of invoicing and collecting payments.
Billing solutions
While still maintaining a product catalogue with items and their pricing variables, the ability to send an invoice adds a new layer. To invoice a customer for a single purchase, a tool needs to combine the product, its price, sometimes the customers' details, and any tax. To perform that task for many customers is not much different than a normal data merge. If the goal is to repeat the process each month or year, it takes a calendar and trigger. In a subscription service, the price needs to be calculated based on time, volume, and consumption. To repeat the math for each customer each month, a system needs to be built. The more complex the calculation, the more complex the system. That is Pre-Paid, Post-Paid, Volume priced, Tiered priced, and more. Each relationship requires its own combination of variables and the ability to look at what was paid and what will be due under what circumstances.
Billing systems are able to calculate highly dynamic pricing and contract variables for large numbers of subscribers repeatedly while acknowledging payments, credits, and contract terms.
Subscriber Relationship Management (SRM)
If the goal is to only create a price, send a bill, and complete a term of an agreement, a billing system would be what is needed but, if the service requires unique delivery steps, and the solution is billed based on utilization or consumption of services, then a new layer is needed. Subscriber Relationship Management is the ability to track and respond to dips and peaks in utilization, or challenges in service delivery to ensure that subscriber confidence, renewals, and growth of the services are protected. When a mobile phone carrier pre-emptively contacts their subscribers because of the threat of a high invoice charge, that is SRM. When a power company shows that historically you overused or underused water or power at this time last year, it's an SRM system. When you need to productize a discount to last for a targeted period of time against the services they are subscribing to or if a price is automatically altered because of a drop in consumption, these are all SRM working.
Being able to not only quote, but ensure fulfilment, establish a recurring calculated invoice and then alerting sales, marketing, and service management when a subscriber is demonstrating at risk tendencies are the domain of SRM.
Examine your goals carefully before assuming that after spending 1-2 years configuring your CPQ you will actually achieve any ROI